The Abilene Education Foundation was pleased to present the fifth annual AEF Young Masters
Juried Art Exhibit for Advanced Placement Art students in April 2012.
The Grace Museum in collaboration with AEF and AISD, celebrates young master artists and their dedicated teachers for demonstrating excellence in artistic education with a quality museum art exhibition. The Young Masters exhibition extends the supporting role of AEF with AISD and will impact the future of not only the students selected for the show, but all AP art students by inspiring them to reach their full potential. Additionally, it provides students acclamation that may further enhance opportunities for acceptance into premier higher education art programs.
The list of the AHS and CHS students and their teachers whose works were selected for the Young Masters Juried Art Exhibition was exhibited at the Grace Museum April 3-12 and then transfered to the Credit Union on Antilley Road to be on display there as well. The art was also displayed at a reception honoring these AP Studio Art students and their families on April 3rd. The Best of Show, 1st, 2nd, 3rd Place, three Merit winners and Honorable Mention winners were all announced at the reception. The Best of Show, 1st, 2nd, 3rd place and Merit winners all received a college scholarship.
This project was supported by a grant from the HeArts for the Arts program of the Abilene Cultural Affairs Council and the City of Abilene. Sponsors also included: Future Fund of the Community Foundation of Abilene, Abilene Independent School District, Melody Hunt, Kaye Price-Hawkins/Priceless Literacy, Abilene Frame-N-Art Shoppe, Abilene Teachers Federal Credit Union, and Judy Godfrey.
2012 Young Masters Artists Scholarship Recipients
Best in Show: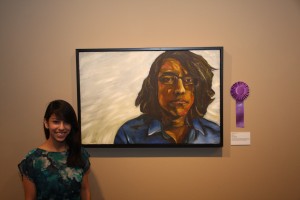 CHRISTABELLE MATTA
Abilene High School
$2,000 Scholarship
First Place:
   
SEO JIN
Abilene High School
$1,000 Scholarship
Other Winners:
$750 Scholarship for Second Place
Emily Beard, Abilene High School
$500 Scholarship for Third Place
Shelbie Sterling, Abilene High School
Merit Award winners:
Tarrence Jones
Cooper High School
Brittany LaChapelle
Cooper High School
Vincent Vasquez
Cooper High School
To see all the photos from the event, click HERE.
(Photography by Billy Stone)